Surface Ink Vertical Wallprinting
Transform Your Space with the Power of Vertical Printing.
Transform
Your
Space
With Vertical Printing
There are no more boundaries. Print anything from simple colors to complex designs, flat drywall to heavily textured surfaces, wood, paint, metal, brick and beyond - you're no longer limited to what types of designs you can incorporate in your space.
The future of interior design begins with wallprinting.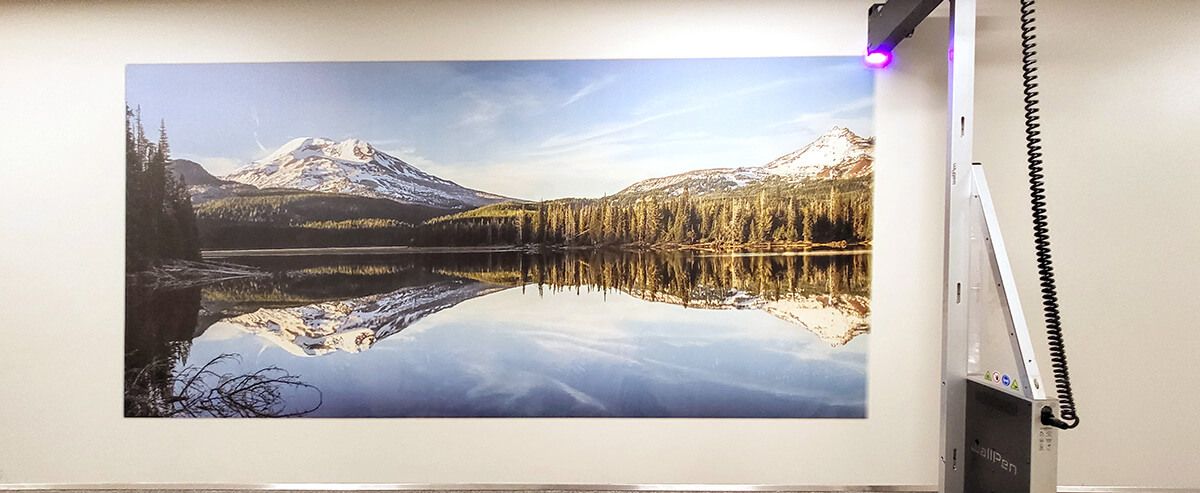 What is Vertical Printing?
Think about printing a high quality print on a piece of paper. It's just like that, except we're printing on your wall. We use a powerful, cutting-edge printer custom-made in Germany that can print up to 17 feet high and virtually infinite length. 
Wallprinting Vs Vinyl
We get asked, "What makes this different than vinyl applications or custom wallpaper?" Quite a lot, actually.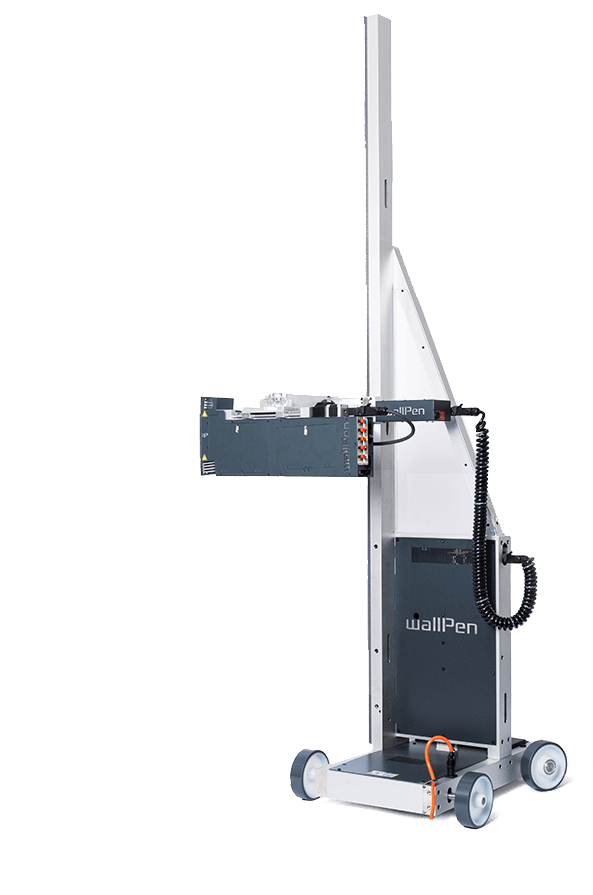 Complex Designs
The ability to incorporate complicated shapes, patterns, drop shadows, gradients, artwork, and photos directly into the design without limitations.
Same Day Service
Designs can be made or finalized on-site before printing, offering total flexibility with no advanced preparations needed.
Textured Surfaces
The print will adhere to any surface regardless of the underlying texture, from stucco to brick.
Damage - Proof
Direct impacts to the print surface will not cause tears in the print that will slowly unravel over time.
Seamless Prints
No seams or sections of vinyl material need to be combined to cover a large surface.
Edge-To-Edge printing
Cover 100% of the surface area from corner to corner. Our printer requires up to an 18" margin from corners.
No Adhesives
Prints directly on the surface, no smelly and surface-damaging adhesives needed!
Easy Removal & cleaning
One coat of primer and one coat of paint will completely hide the print, no special treatment required. Easily cleaned with common and industrial cleaners without damaging the print.
Environmentally Friendly
No wasteful transfer papers, chemical adhesives, or large transport trucks required. Less than 0.4mL per sq ft of ink is used, and ink is vegan and free from solvents and thinners.
How do we do our vertical printing?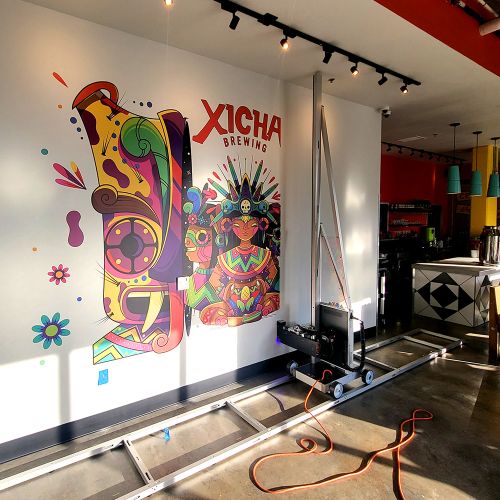 We measure your printing space to determine the canvas size available and identify any obstacles such as switches or plugs
Graphics, logos, text, pictures? It's all possible. We design the perfect print for your space or utilize your existing designs.
We bring our cutting-edge wallprinter onsite and put ink to surface. Our ink cures immediately, so there's no need for drying time.
Your space will never be the same again. Get ready for the compliments!
OUR

SERVICES
See how Vertical Printing can transform your space
Ready to bring life to your walls or work on a special project? Our team of vertical printing experts can assist you with everything you need to revamp your space. Schedule a free consultation with us to begin.
Wallprinting
We bring the printer, you bring the wall. Service includes simple wall cleaning and all printing.
Surface
Preparation
Is your wall not a good fit for printing? We can prep and paint your wall with high-quality printing paint for the best results.
Design
Services
Our team of artists and designers can create anything you want based on your vision.
Special
Projects
Want to paint on special surfaces like wood, metal, glass, plastic, or more? We can accommodate all kinds of unique projects!
PRICING OPTIONS
We've made pricing a breeze! Our costs are based on the size of the print and the desired print quality, not on the complexity of the design. Print anything you want at the quality you desire.
150 DPI
Great for large murals, distant prints, or low-detail graphics.
Print on a Budget
At 150 DPI (dots per inch) we saturate the surface with less ink. If you're covering a large surface or print quality isn't as important, this is the perfect choice for you. Final prints will include soft lines from print head overlap that become invisible a few feet away from the print surface.
600 DPI
A perfect blend of quality and price, great for just about any design.
Unparalleled Printing
Find the sweet spot with our 600DPI package. The printer lays down 4x the ink coverage of our 150DPI prints, making colors more vibrant and contrasty and reducing horizontal banding. An excellent choice for logos, photos, vector graphics, branding, and text.
1200 DPI
Printing excellence, now available for any surface.
Printing Perfection
If you strive for excellence, this is the package for you. With over 8 times the ink coverage of our 150dpi package, these prints will astound you with their vibrancy, detail, and color reproduction. If you want to print on a custom surface like metal, brick, wood, or more, this package is for you.
All prints require a $500 minimum.
Design services are billed separately, starting at $50/hr.
Painting and preparation services are billed separately on a case-by-case basis.

Do you work for a school or non-profit? Talk to us about our special discount pricing.
Joel and the Surface Ink team transformed our factory space. The prints have been a beautiful way to reinforce our brand to employees and customers alike. I couldn't recommend them more.
Sam Snyder
VP, General Manager at Northern Gold Foods
The forests of Oregon are our home. That's why we pledge to be a sustainable, eco-friendly business.
Our ink is certified solvent-free, is 100% vegan, and made with care in Germany where environmental protections are rigorous.

When you pay your invoice through Stripe, we donate 1% of all our revenue to fight climate change.